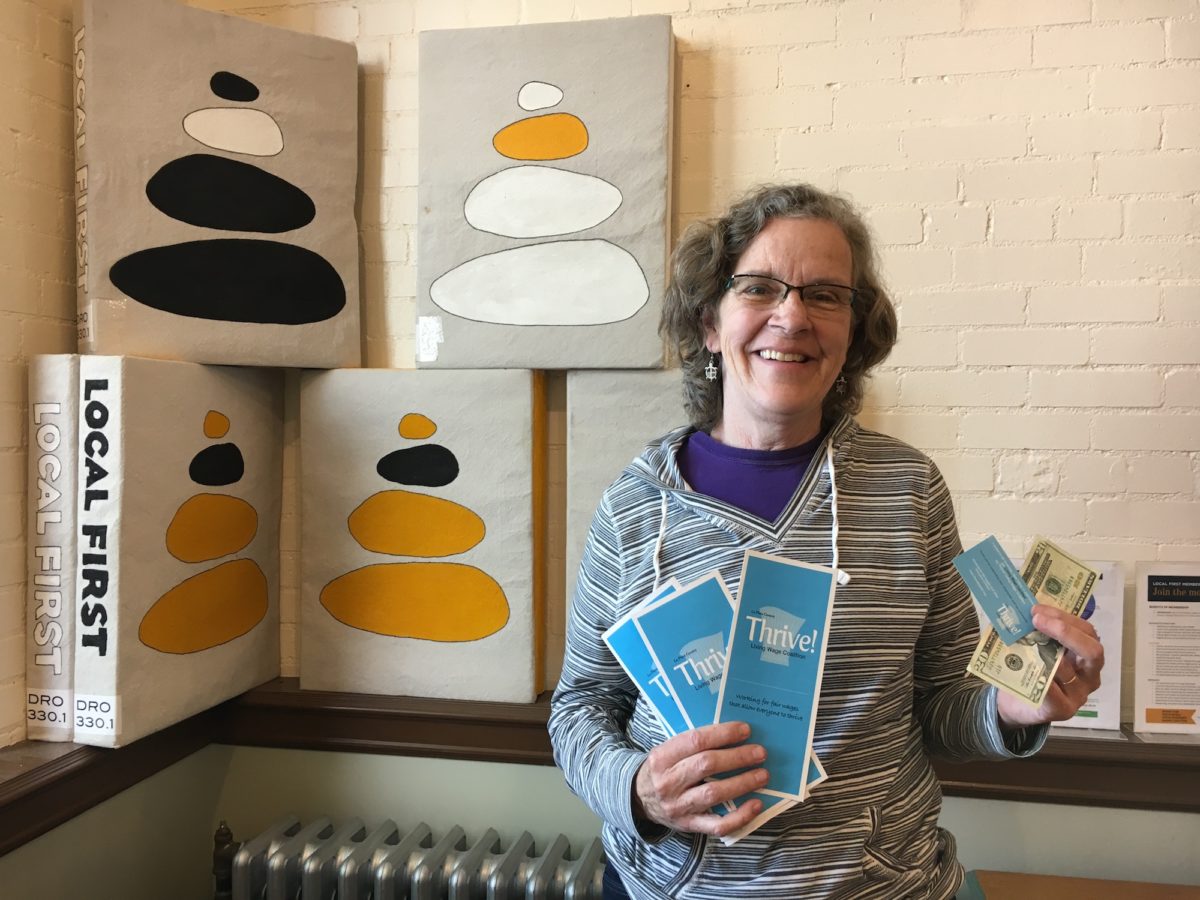 An interview between Monique DiGiorgio, Local First Managing Director and Maureen Maliszewski, Executive Director of Thrive Living Wage Coalition.
Q: Please tell us a little about thrive and why it's important for businesses to provide a living wage?
A: Thrive's goal is for all workers in La Plata County to be paid a living wage. It's obvious that it's important for workers to be paid a living wage so they can afford housing, food, childcare, transportation, health care – they are going to meet their basic needs and that is important for everyone in our community, and I think that's what we want our community to look like.
Q: Why are you a non-profit member of Local First? Why is it a value to you?
A: The idea is that we are on a similar course. It's really about the success and quality of life in our community. So, when people buy local, that supports our community. When people are paid a living wage, that supports all the members in our community and the business, economically, it's a good idea for people to make a living wage so they have money to spend in the community. So the idea is "Buy local, buy living wage," addressing consumers – we want consumers to support businesses that are paying a living wage and that are local where the money is staying in our community so everybody benefits.
Q:Tell us about any exciting events/programs you are doing?
A: Our longest standing program is the Employer Recognition Program where we certify employers that are paying a living wage or aspiring to pay a living wage. So that by promoting that in the community more and more businesses will see the importance of paying a living wage and the consumers in the community will understand what is a living wage versus a minimum wage which is a concept that we all grew up with. We just certified our 100th business and we started in the end of 2014, so just over 2.5 years. When I say businesses, that is for profit and non-profit.
The other thing we work hard on doing is educating the community on why a living wage is important. So, we do this by going to the farmers' market and different events in the community, talking to people, giving out information. Also we have a premier educational program every year. This year we are planning for the fall an educational program on early childhood care and education which is a very interesting area because people who are employed in that sector are usually generally not paid well. Parents struggle to afford day care and it keeps a lot of people out of the workplace. People who are running day care centers struggle to make it work both for their employees and the parents. Really, the bottom line is the benefit to children of that care and that is seen decades later when they are adults. They have a better shot at having a good job, and they do better if that have that early childhood education care. So, it's a big issue. And in our country, it's not affordable for most people. It either takes them out of the market or children are left in an unsafe situation.
Also, advocacy for a living wage. Last fall we were part of the statewide coalition that worked for an increase in the state minimum wage of $12.00/hr by 2020 which was successful. That doesn't quite get people to a living wage, which right now is $12.98 for a single person, but it is closer. So, we'll take steps to get there.
Finally, we have a fundraiser coming up monday -friday (Dine Out Durango! Apr. 17-21). We have 7 restaurants who are going to be giving us a percentage of what they take in during that week. We are encouraging people to dine out at these restaurants who are all living wage employers in the food and beverage business in town. We will hopefully build on that every year. We decided to do this in the mud season, a slow time for the businesses, it's really not the tourists we are trying to attract to this, but the locals to teach them about this and encourage them to support living wage employers. So, this is their time to step out and dine out.
Q: How can our organizations work together?
A: I really do think the message is "do business locally and living wage." Support local, support living wage. So at every possibly intersection we are going to work together and just recently we started doing that with the Be Local Coupon Book recognizing of the Local First members in the book, some of them are living wage employers. So there is a lot of crossover there for our business. And there is tons more we can do with that! We will be as creative as we can be.