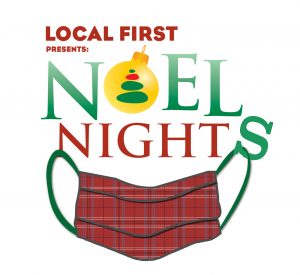 December 4th-6th, 2020
Durango's Covid-19 Safe Christmas Party!
History of Noel Night
Noel Night was started in 2002 as a response to the Missionary Ridge Fire and the impact it had on our local, independent businesses, and since has grown to become a local holiday favorite that brings our community together.

Every December, Local First, and its partners present Noel Night, a family-friendly event where you can enjoy special offers, live music and entertainment, and delicious holiday treats!
A different kind of Noel Night!
With concerns over health and safety from large crowds, Local First has acknowledged that continuing Noel Night as usual this year is not a responsible choice. So, we as an organization have decided to not completely cancel Noel Night, but shape the very popular holiday shopping event into three different days! 
It will be three nights of safe shopping, online purchasing opportunities, plenty of discounts, and ample chance to spread the holiday cheer! 
We are currently adapting to this years changes, so stay tuned for more information!
Noel Night planning is underway! Click the links below to get your events listed in the insert, online, and on social media, or if you would like to perform during Noel Night.