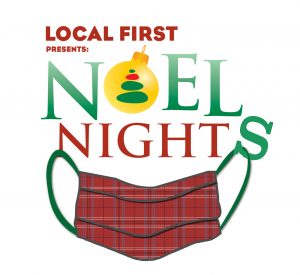 December 2020
Durango's Covid-19 Safe Holiday Party!

With concerns over health and safety from large crowds, Local First acknowledges that continuing Noel Night as usual this year is not a responsible choice. So, we as an organization have decided to adapt!
To encourage safe, social distancing, we are letting people shop when they want!
This year, you favorite local businesses will have coupons, or "vouchers" inside the annual Noel Night newspaper insert created by The Durango Herald. These vouchers can be used at your convenience so you can do your holiday shopping easily and safely!
example:

We are also going virtual for 2020 Noel Night and making shopping go virtual!
Curious to find out about our great online shopping opportunities?
Check out our two options below!
we are pleased and excited to offer you our partnership with a new online marketplace called, Bizaily.com.
Created by local resident Gordon Matlock and his brother Jeff, this new online marketplace, and marketing platform, enables small and locally owned companies to stay competitive in this changing economy and gives you an edge against online shopping giants. 
Bizaily.com is a one-stop platform for consumers to go to find the products and deals they are looking for. It is free for Local First members, easy to use, and a clean and simple option to market your business, highlight sales, expand promotions and guide customers to your online store. The website and platform is sleek, easy to use, and offers just what you need to develop and post your marketing campaign, insert links to your social media/website, and let customers amplify your marketing message by sharing your offers and events with their social media. 
This marketplace is a great opportunity to reach online customers at home, target the online and in-person consumer base, and market deals and products through the holiday season. 
Moreover, Bizaily.com will put an emphasis on those Local First members who have signed up for Noel Night(s) and will showcase any Noel Night(s) offerings and deals. 
As Noel Night(s) passes and the holiday season wanes, the Bizaily.com marketplace will continue to be available for businesses who wish to keep their online presence available for consumers to search and find offerings and deals from your business. 
We hope you find Bizaily.com helpful in marketing and making online and in-person sales! 
Join us online as we shop live at your favorite local businesses this holiday season! Make yourself cozy, stay in your PJ's and watch as we show you around inside local stores and view some great ideas for gifts this year! We will tell you about deals and easy ways you can buy local for your friends, family, pets or just a little gift for yourself. Keep an eye on our Facebook page for details!
Want to Participate as a Business?
Noel Night is so successful because the community comes together under one goal of encouraging people to shop local instead of with national chains for the holiday season.
History of Noel Night
Noel Night was started in 2002 as a response to the Missionary Ridge Fire and the impact it had on our local, independent businesses, and since has grown to become a local holiday favorite that brings our community together.

Every December, Local First, and its partners present Noel Night, a family-friendly event where you can enjoy special offers, live music and entertainment, and delicious holiday treats!
Noel Night(s) planning is underway! Keep checking back for updates!