This Coming Holiday Season – Friday, December 7th, 2018!  
"Durango's Christmas Party" 
"Look Local First" this holiday season!
Noel Night was started in 2002 as a response to the Missionary Ridge Fire and the impact it had on our local, independent businesses, and since has grown to become a local holiday favorite that brings our community together.

Every December, Local First and its partners present Noel Night, and encourage you, your family, and your friends to shop locally this holiday season!
Find the most unique and economically beneficial gift all in one– here in La Plata County! Enjoy special offers, live music and entertainment, specially festive events, and treats crafted just for you.
and thank YOU for coming this year…
IT WAS THE BIGGEST NOEL NIGHT YET! 
Check out the Noel Night Insert Below to Find out More:
New! Gift Wrap & Ship Station

Santa Arriving By Helicopter

Over 65 special events and 25 bands/performers

Photos with Santa at the Main Mall

Over 80 businesses participating
Events and Entertainment on PAGE 12 & 13 !
Santa Arrived by Helicopter in 2016!
Look for his arrival by Helicopter again at FANTO PARK this year at 4:15 pm! 
SPREAD THE WORD ABOUT DURANGO'S BIGGEST CHRISTMAS PARTY! 
2017 Social Media Package
MERCHANTS: Please use and SHARE these images on your social media platforms, newsletters, promotional advertising, and on decorations within your shop! If we all leverage our contacts and lists, word of Noel Night 2016 will spread far and wide! We are so appreciative and excited to see this event give back to our locals. Should you have any questions, please feel free to contact Local First at 970-799-6618.
Noel Night Logo*
Noel Night General Poster*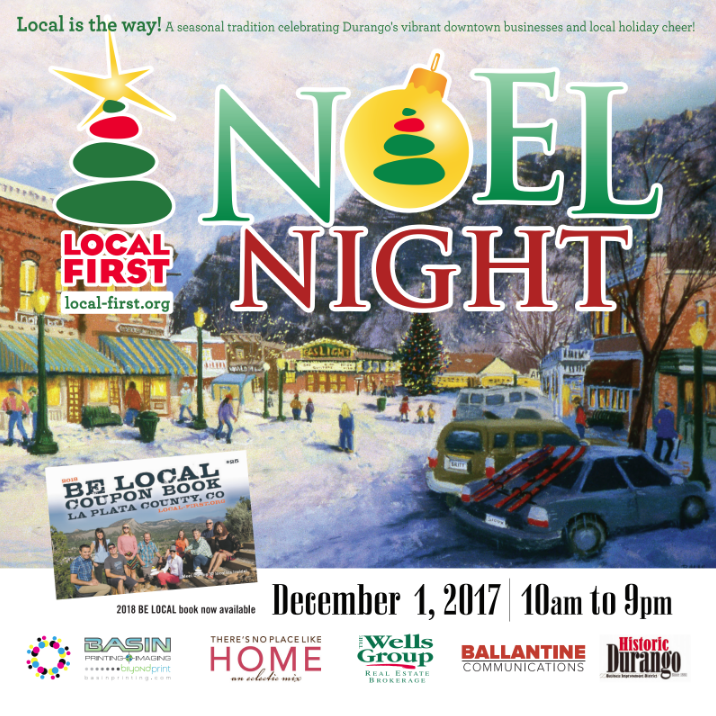 * Local First ("LF") hereby authorizes your use of the LF Noel Night Logo in accordance with the terms described on this page. By using this Logo, you agree that LF owns all rights and title in the Logo; LF grants you a non-exclusive, non-transferable, and royalty-free license to use the Logo only for the purpose described on this page; the Logo has value outside of this transaction; and this license in no way conveys any interest or right to you in the Logo.

Instagram Square*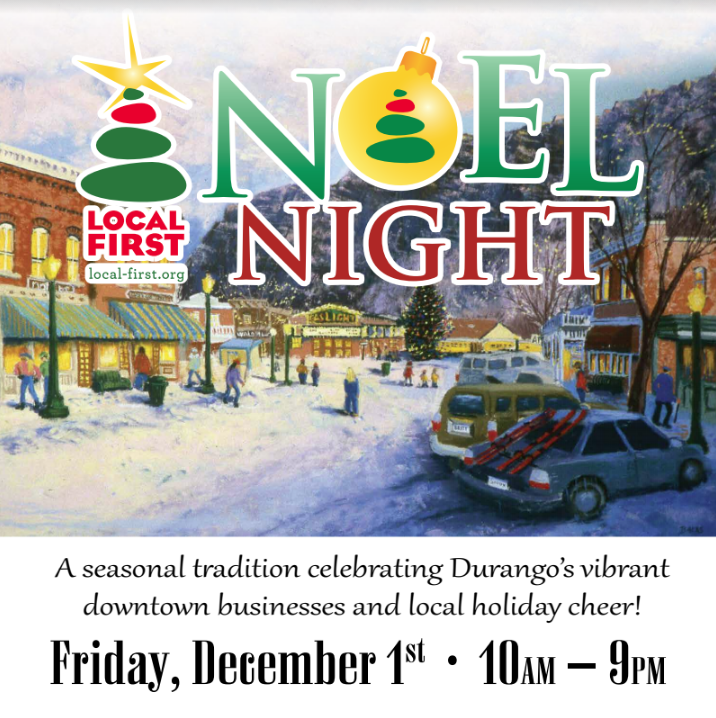 Participating Merchant Poster / Graphic*
(Please only use if you have registered and paid your $50 participation fee)
Diamond Oriented