Durango Autumn Arts Festival Returns!
The Durango Arts Center (DAC) is excited to celebrate its 27th Durango Autumn Arts Festival. Organized as a benefit event by and for the region's premiere non-profit arts organization serving Durango and the Four Corners region, this beloved festival offers exquisite art and beautiful crafts from around the country.
The Festival takes place amidst the fall colors in historic downtown Durango, Colorado. This year the event has expanded to include more artists and craftspeople and now runs from College to 10th Street along East 2nd Avenue. Attendees are encouraged to dine at local restaurants, many of which are event sponsors.
This year features 85 artists and craftspeople selected by jurors Mike Scieszka, Hayley Kirkman and Maurice Leysens.
Several artists will be returning this year. Tad Smith, Birgitte Lufty, Mel Mendez to name a few.
Nationally renowned artists including Marie-Juliette Bird and Michael Billie will be joining us, as well as local favorites Cindy Coleman, Drea Clemens, Mel Mendez, Barbara Albrandt, Jesse Crawford and more!
The festival is made possible by volunteers and our generous sponsors such as the El Pomar Foundation and Legacy Properties West Sotheby's International Realty. A full list of sponsors may be found on Durango Art Center's website www.DurangoArts.org
The Festival is FREE and open to the public.
COVID-19: As it has in the past 18 months, DAC will implement all current and necessary Covid-related guidelines mandated by the state and county health agencies to keep Festival vendors, visitors, and volunteers safe. As of this writing, masks are not required, but highly recommended.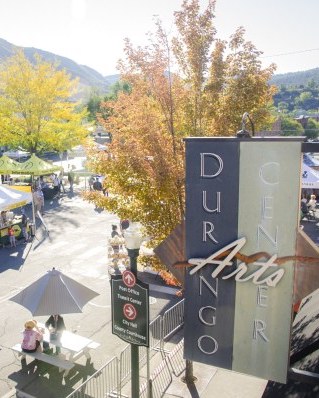 2021 Autumn Arts Festival
WHEN: September 18th & 19th, 10am – 5pm
WHERE: 2nd Ave. Downtown Durango, between College Ave & 10th St.
WHO: This Festival is FREE and open to the public!