The 2022 Be Local Coupon Book is coming this November!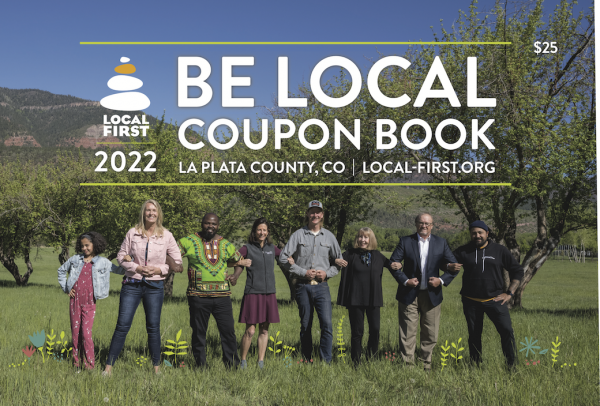 Business Members: Want to sell books in your store?
Email info@local-first.org for discounted wholesale rates!
 About the Be Local Coupon Book
A coffee table favorite when you're deciding what to do over the weekend, or where to go out to dinner that night… it's the best "deal" in town. Coming out each November and good all year long, this book serves as an introduction to La Plata County's incredible locally owned and independent businesses that make this community's vibrancy, culture and attraction what it is.
With unique coupon offers new and longtime locals can't get anywhere else, each book takes on a new theme and tells a story while educating and featuring all of our fabulous member businesses and organizations of La Plata County. It truly is The Localist Manifesto – in print!
A great gift for the holidays, birthdays, your new neighbor, or college students! 

Get the inside scoop on where to shop

Reduce your environmental impact by buying local 

Support your neighbors, friends, and family 
I wanted to take a moment and let you know how happy I am that I got involved this year.

So far 5 new clients because of the discount in the book.

5 clients decided to do another class because of the coupon.

You guys made this easy for a one women show by offering monthly payments. Thank you!
"Of course, everyone knows about the Ken & Sue's coupons, they alone make the book worth it!"
I get so many coupons back, there's no way I would miss this opportunity! It's one of my best marketing investments!"
-Kroegers
"Before the book expires my girlfriends and I collect all of our unused coupons and have a girl's night out, it's one of my favorite nights of the year!"
"The only marketing I choose to do! It's worth it."
"I used my book at Habitat Restore and saved over $100 on a new washer, and still had all of my other coupons to use! Best $25 spent!"
Benefits of Buying Local: Why the Be Local Book is Successful
For every $100 spent at a locally owned business, $73 goes back into the community. In contrast, for every $100 spent at a chain store, only $43 comes back.
Supporting our independent, locally owned businesses helps La Plata County maintain its unique character, historic identity, and tourism appeal.
An increase in sales tax revenue from buying local helps to support local services like our public library and firefighters.