Purple

– First Friday Art Gallery |

Red

– First Friday Host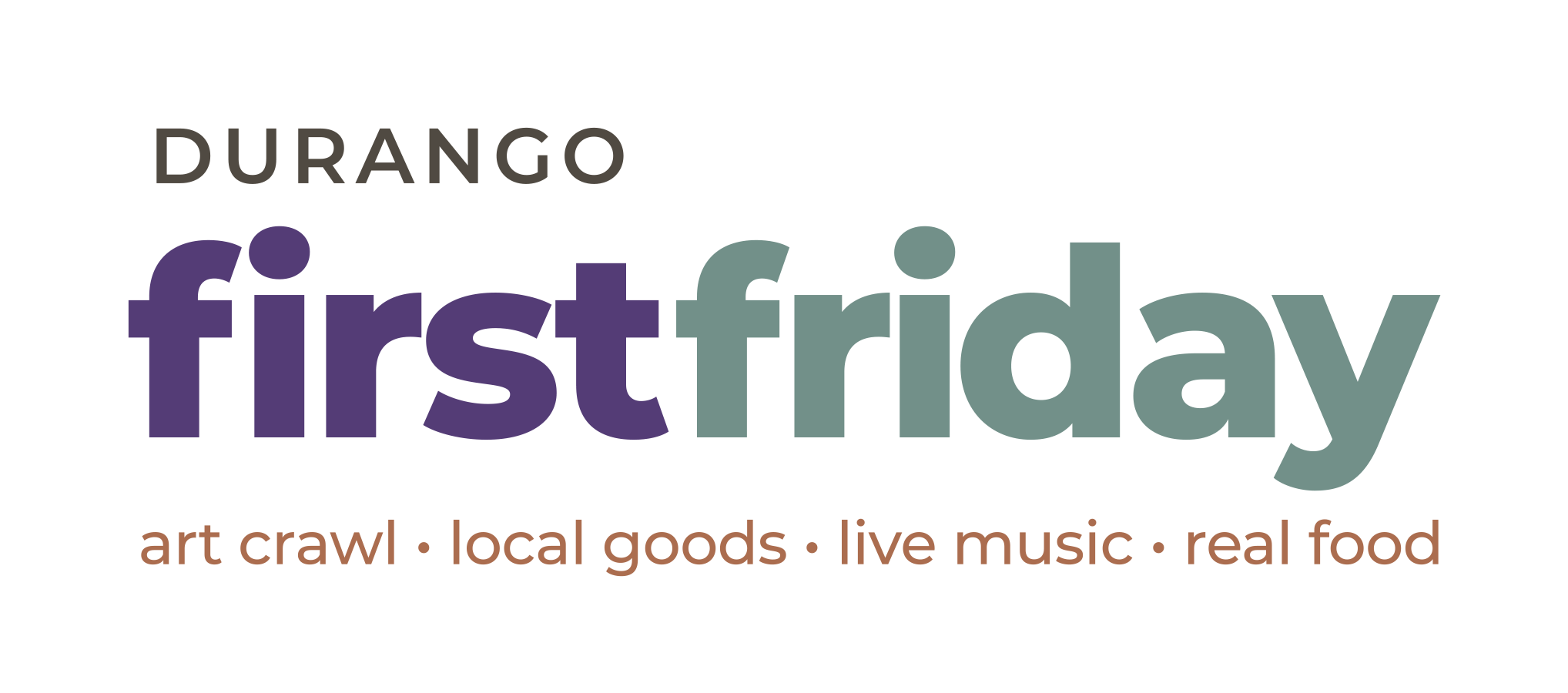 The next First Friday is October 1st!
Durango First Friday is a monthly art walk celebrating all things local in our amazing community—art and music, culture, unique goods, real food, and movement makers! Rain or shine, this monthly event will take place through out Durango from 4-8pm, with free transit provided by the City of Durango.
Share you First Friday Fun on Instagram with #DurangoFirstFriday
Details about First Friday events happening across Durango available on our interactive map!
Durango First Friday Events
September 1st from 4-8 at Animas Trading Co., Downtown Durango 742 Main Ave.
The ArtRoom Collective Durango First Friday 4-7pm.
Make you own clay earrings — FREE! (or make a gift for someone else!) On October 6 at 5:30, Deb Rodgers Pottery will be doing a short demo on how to create ceramic earrings using colorful underglazes and slip (liquid clay). You will then get to design and make your very own earrings which Deb will fire, glaze and then fire again. The mini workshop and all materials are free. Come and play with some clay at October's First Friday at the Smiley! Follow Deb on Instagram at: https://www.instagram.com/debrodgerspottery/ Facebook Event: https://www.facebook.com/events/644719274138229
The ArtRoom Collective is a working gallery of 22 local artists located in the Smiley Building!
Friday, September 1 @5:00PM at Blue Rain Gallery will be featuring a selection of bronze works by Tammy Garcia, Hib Sabin, and Raymond Gibby.
934 Main Avenue, Unit B
Durango, Colorado 81301
(970) 232-2033
BLUES MTN SOUL is your local, art and illustration gift shop and gallery. We feature unique acrylic and charcoal paintings of blues, country and rock musicians by the artist Brian Banash. Additionally, we offer illustrations of local interests and attractions — perfect for souvenirs and gifts. Come by, hangout with us, meet the artist and listen to the BLUES! We will be here 4-8 pm.
First Friday 4-8pm
Visit Carver Brewing Company and enjoy craft food specials featuring seaonal produce!
2nd Annual Plein Air Painters of the Four Corners Juried Exhibit and Sale
Presented by the Art Guild of Create
Opening Reception & Awards on August 1st, 5 – 7pm
Workshop on September 2 & 3, 9am – 4pm
Downtown Paint-Out on September 9, 9am – 12pm
Quickdraw on September 20, 9am
No cost or reservations!
Dryside Supply Co. has a ton of new summer goods and garments in the shop, and will also be hosting 2 incredible local artist pop-ups for First Friday!
First Friday 4-8pm
The DAC is located across the street from Steamworks and is open from noon to 6pm Tuesday-Saturday! We have different galleries throughout the year filled with art created by local talents! Furthermore, our theatre produces brilliant productions such as: Reefer Madness and Rocky Horror Show for locals and tourists alike to enjoy!
First Friday 4-8pm
Cool off with an iced beverage and support local artists!
Durango Street Pianos returns for it's second summer in front of Maria's Bookshop and EsoTerra Cidery! Anyone is welcome to stop and share a song or sing along. This piano was painted by Louisa Palmer, also currently showing with the DCD at Stillwater Music. This piano will stay out for the duration of the summer. Check us out at @durangostreetpianos on Instagram or at www.durangostreetpianos.com
Did you know that this Friday is Sept 1? Summer is slipping gently into Fall. To celebrate the changing of the seasons we're hosting another #firstfriday art event from 5-7:30.
Mark your calendar and come on down to our shop in your Fall finest for Mocktail Madness.
Meet this month's featured artists: @helloluna_creative who designs and creates one of a kind #jewelry out of recycled sterling silver; @durangohairtinsel who will put tinsel in your hair until you shine like the North Star that you are; and @recycledpartsbykiley who makes #earrings #necklaces and more out of upcycled bike parts. Who know you may come away with a part of your old bike.
Join Earthern Vessel every First Friday 4-7pm!
First Friday 4-8pm
EsoTerra will be hosting a rotating selection of amazing artists with the goal of providing a temporary sales space for burgeoning artists who don't yet have their own gallery space. All artist's work will be for sale at the event. Drink Specials include $5 Prosecco and Red Wines.
First Friday 4-8pm
Giaco LTD's µGallery showcases long life prints of Durango and its locale. Currently in exhibit is the 'Monochrom Mountain' series of works showcasing the drama of the sun, the sky, and the clouds as they share their nature with these vaulted lands. You can meet the artist from 4-8PM.
Featuring local artists every First Friday!
First Friday, 4-8pm.
Come meet Serena Supplee downtown at Maria's Bookshop! Serena will be present for a meet and greet at her first art showing in Durango since 2018. Her original artwork will be available for purchase along with cards, calendars and her books.
New release party on July 7th! Visit Scenic Aperture and meet the artist. First Friday 4-8pm
Visit Scenic Aperture's Gallery, featuring fine-art nature photography of the four corners area. The gallery showcases landscape, wildlife, and nature photography by Frank Comisar.
First Friday 4-8pm
Smiley Building, Studio 26, 2nd floor, far north end of building. Kit Frost will be hosting and selling her unique, handmade, one-of-a-kind knitwear and handwoven textiles. Kit specializes in handmade knit hats and hand dyed silk scarves, as well as handwoven table linens and gift. Kit will demonstrate weaving techniques on her looms.
First Friday
Visit Sorrel Sky Gallery on First Friday. Their gallery features a disctintive collection of contemporary and traditional western and Native American art.
First Friday 4-8pm
Live music on the patio, friday's happy hour, and artist live painting!
First Friday 4-8pm! Support local artists.
First Friday 4-8pm
Sun Sapphires is a unique glass art & fine jewelry shop which offers fused glass, stained glass, art classes, and fine jewelry. All of their jewelry combines traditional designs with contemporary elements, incorporating high-quality cut gemstones. Learn all the steps to create your own glass art, a great group activity for any age! You can find Sun Sapphires up the stairs at 640 Main Ave.
Come sip on Sutcliffe and support local artists!!!
First Friday 4-8pm
Featuring local artists and tea samples!
Participate as a Business or Artist!
Any and all stores are welcome to participate in Durango First Friday from the north side of town to the south. Thanks to the generosity of the city of Durango, there will be free bus and trolly services every First Friday to accommodate ease of getting from one end of town to the other easily and safely.
Visit the links below to register your First Friday event, add your name to list of interested artists, and download First Friday promo material.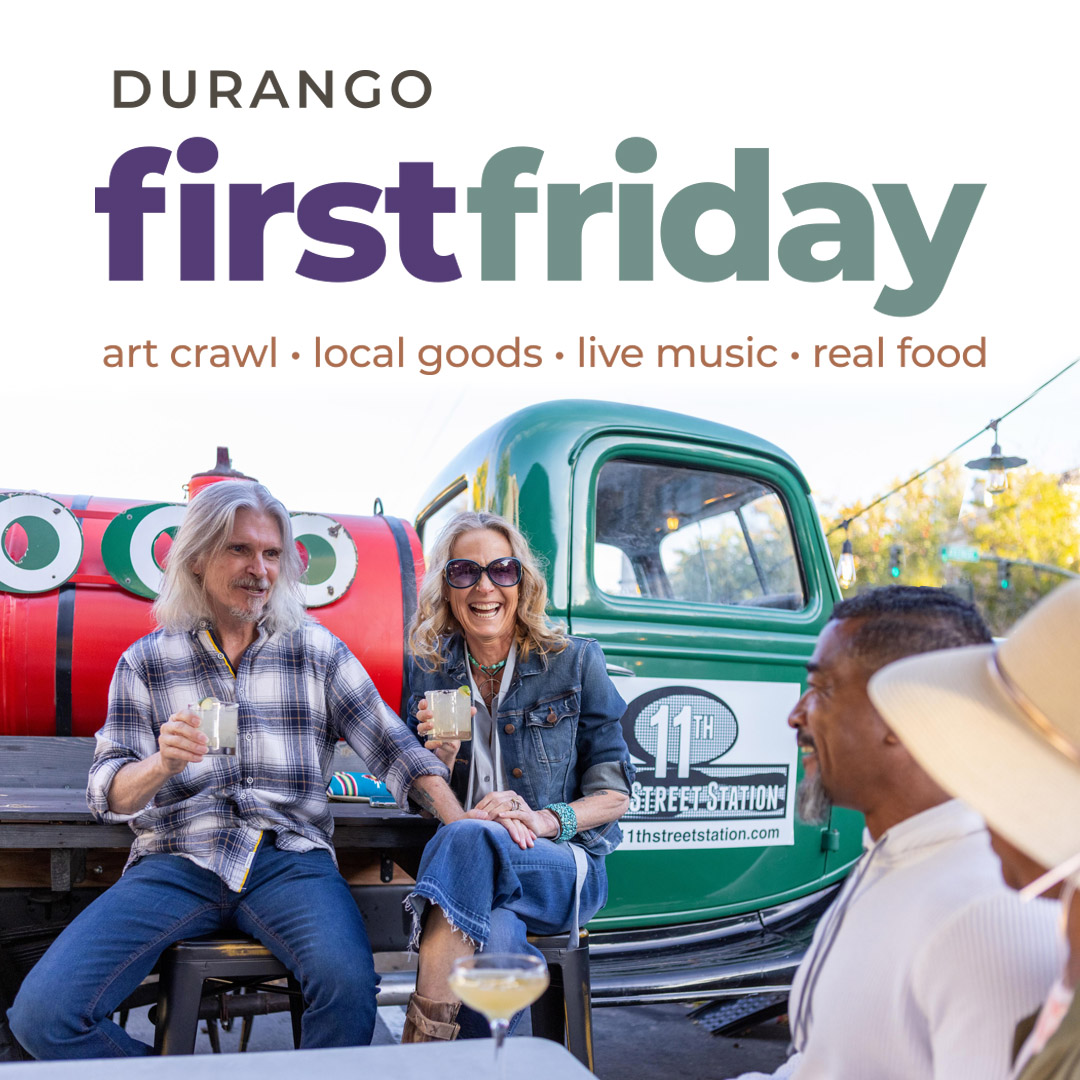 Durango First Friday FAQs
What is this event all about?
Free and open to the public, this self guided, monthly event will take place rain or shine, the First Friday of every month throughout Durango with a focus on main street from north to south! We are just getting this off the ground, but hope for First Fridays to become a signature event for the city of Durango. Businesses of any and all kinds open their doors and their walls to host an artist of their choice and follow a "reception" format- artist info, beverages and/or snacks provided, maybe even a musician- while locals and tourists alike flood the area to socialize, shop, eat, and celebrate the arts in all forms.
How do I participate?
Sign up and register your business here! It's free and easy. Just answer a few questions on this form so we have your info for our marketing and outreach materials. We'll add you to our website, post on social media, and even list where you're located on our map.
When and where does it take place?
The first Friday of every month starting in May from 4-8pm. Any and all stores are welcome to participate from the north side of town to the south. Thanks to the generosity of the city of Durango, there will be free bus and trolly services every First Friday to accommodate ease of getting from one end of town to the other easily and safely.
How much does it cost?
It's free to host and participate. Artists of course, are welcome to sell the pieces they're showcasing.
Do I have to host an artist to participate?
Although it is not required, it is strongly encouraged. There are so many talented artists in our community and this special day each month is a place for them to showcase these talents- this could be art hung on a wall, music, slam poetry, and the list goes on and all ages are welcome! Just put the word out there that you are looking to host an artist or contact your favorite to get started. View this list of interested artists.
How do I host an artist?
Looking for an artist? Put the word out there to friends and use social media. Post something and tag DCD or Local First and we'll repost to the artist community. Each business is asked to take the lead on communicating with the artist community to find a monthly showcase.
Serving alcohol?
You'll need to apply ahead of time and practice compliance. Special Event Liquor permit applications must be submitted to the City of Durango 30 days prior to the event. Please plan a well in advance and follow the city guidelines listed here.
What's in it for me?
Increased street traffic downtown from north to south main! More visibility, great marketing, increased sales, celebration of art and culture, and a whole lotta fun!