2022 Be Local Coupon Book
Now in its 14th year, The Be Local Book is produced every November by Local First to help encourage locals, tourists, and everyone in between to shop with our local, independent businesses. We are excited to announce that the book will be back to normal production this year, with all new content from our members. Thank you to all of our local, independent business members for taking care of our community this year – we are proud to serve you!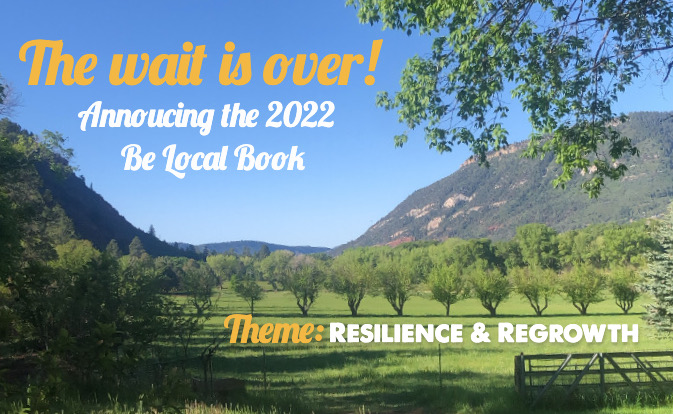 Our staff is here to help you design content that will get new and returning customers in your door, sell your products and services, and help you tell your story.  
 This year, we are excited to get back to business as usual with the 2022 Coupon Book. This year's book gives you the chance to order some of your old favorites like Story Pages and Back of Coupon photos, along with a fresh set of coupons. 
Find all of your old favorites using the same, easy process as before. When you login you can easily place your order, directly edit your content, and click submit. For previous members, you can even keep your content the same as last year by checking a box. Easy peasy!
Share your story in one of the most popular sections of the Be Local Book! This year, we have a specialized Q & A to help customers learn more about your business and how you support the community.
Price: $350
These are ads found in the back of the book alongside the directory and take up a third of the page. They are great for businesses that can't offer a discount and don't want to do a full story page, but still want to advertise in the book. People spend a lot of time in the directory hunting down a particular coupon, so you'll get plenty of exposure. It's the best of both worlds!
Price: $145
Back

of

Coupon Photo Pages
This is some of the best advertising space La Plata has to offer because we limit the number of photo pages so that the photos can repeat 5-6 times throughout the book.
Price: $440
Limited Quantity Available!
The bread and butter of the book, coupons are a great way to gain new customers, get returning customers, or to show off new products/services you have to offer. Opposed to offering discounts? You can still use "coupons" to drive clients through your door by encouraging the behavior you want to see such as payment in advance/in-full, attending multiple sessions with you, or making purchases in larger amounts. 
Price: $130 per coupon
Best Deal, Most Exposure: Buy 3 coupons and fill the page: $375 ($15 discount)
Share your story online via our website and through social media. Local First staff will share your story on our website and re-post four Facebook and Instagram posts of your choice. Pick from your favorite story page in one of the last three Be Local Coupon Books or write a new story or post on social media.
Price: $75
New!