This pop-up art initiative provides intergenerational engagement in public art, encourages support for local businesses, and activates Durango's social sphere!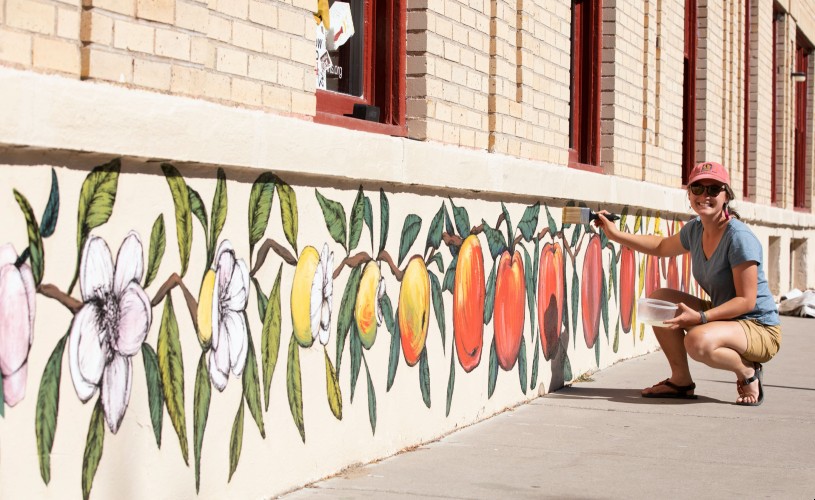 Photo by Scott DW Smith, Imagesmith Photo
Please credit photographer when sharing this photo.
---
 The Durango Art Brigade (DAB) is a public art initiative that was launched last year in response to the COVID-19 pandemic. The initiative came together through the partnership of the City of Durango's Creative Economy Commission, Durango Creative District, Dumpster Beautification Project, Local First and the Durango Business Improvement District.
The initiative serves as a catalyst for Durango's economic and arts organizations to collaborate with the City of Durango in support of supporting local businesses, artists and youth.
In the fall of 2020, the DAB saw successful funding and installation of 11 public art projects, which are documented on the www.DurangoCreativeDistrict.org/brigade webpage and were featured in a Rocky Mountain PBS video segment (filmed by local videographer Scott DW Smith, Imagesmith Photo).
Although the initiative started off as a temporary art project, some projects are still available for viewing today including a large hanging sculpture along the Animas River Trail from artist Jeff Wise. The iconic sculpture, which resides across from the Durango Fire Station area, depicts crows flying from a woman's mouth as well as a swimmer appearing as though they are diving into the Animas River.
"This piece is the essence of surrealism, by placing objects completely out of context," said Jeff Wise about his piece, entitled Cryptic Voyage.
This spring, the DAB is returning with even more art projects available for local artists and youth volunteers to get involved with. Currently, 17 businesses have listed their sites for beautification projects, including but not limited to: indoor hanging installations, outdoor murals, "green spaces" with live plants in downtown bump-outs, chalk art, trailer paintings, and more. If community members have ideas for beautification that aren't listed on the Durango Art Brigade webpage, they are welcome to propose their novel ideas and the DAB committee (composed of nonprofit representatives and City of Durango staff) will serve as the go-between to seek necessary approvals.
"Public art fosters community pride and a sense of belonging," said Durango Creative District Executive Director Hayley Kirkman. "This can be a powerful tool to be more inclusive in art displays while providing an equitable and intriguing way for people to experience it."
You don't need to be a professional artist to participate. Last year, high school students painted murals on Durango Telegraph boxes. A group of people in their mid-twenties assembled a "Community Art Kitchen" with mixed media. An improvisational quilting group teamed up on a large window display to encourage people to vote in the presidential election.
The DAB is primarily funded through the City of Durango's Creative Economy Commission but is seeking business sponsorships and grants to create an even more robust pool of funding. Donors can visit www.durangocreativedistrict.org/brigade to donate or inquire about sponsorships with Durango Creative District's Executive Director Hayley Kirkman.
Artists of all calibers, backgrounds, abilities and experiences can review the Available Site List at www.durangocreativedistrict.org/brigade and apply online for projects by April 30 at 5pm. Because each project is unique, artist stipends and materials reimbursement will be determined upon project types. The selection committee will be offering between $50-$500 for artist stipends plus up to $400 in materials.