Celebrate local music with an Evening at Eolus.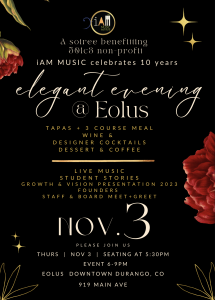 Can you believe it? iAM MUSIC is celebrating 10 years as a 501c3 non-profit organization in 2023! A decade has flown by and what better way to celebrate the impact they've had on the local creative economy than a elegant Evening at Eolus on November 3rd, 2022.
iAM MUSIC, in partnership with Local First, is inviting the community to join us for a unique 3-course soiree including sushi, incredible entree selections, libations, good company and live music at Eolus Nov. 3rd 2022. Join the iAM MUSIC Founders, Board of Directors & Staff, as well as select students!
iAM Music have so much history and exciting news to share with their donors and the community! Evening at Eolus is a benefit for iAM MUSIC and students will share stories, we will showcase live performances, our gratitude and an official growth plan for 2023 and our vision forward. All donations from this event will be directly invested in iAM MUSIC program expansion, at-no-cost-to-student Outreach programming, free instrument rentals, production & recording space, and, as well as new platforms to connect and inspire young musicians. iAM MUSIC is seeking to raise $100k in donations by November 3rd to support their dynamic organization.
Seats are limited, so be sure to secure your ticket soon. Purchase your tickets here!