Question, Persuade, Refer (QPR) Crisis Intervention Training for Local First Members
May 22nd | 9:30 am – 11 am | Durango Public Library
Led by Anna Denali, San Juan Public Health Suicide Program Prevention Coordinator
Local First Members – Join us on May 22 at the Durango Public Library for a QPR Crisis Intervention Training. Led by Anna Denali, San Juan Public Health, this evidence based course will train and certify attendees in QPR (Question, Persuade, and Refer) Crisis Intervention. By attending this course you will learn to: recognize the warning signs of suicide, know how to offer hope, and know how to get help and save a life.
9:30 – 10:30 am: Core Training
10:30-11:00 am: Role-play practice session (optional)
QPR stands for Question, Persuade, and Refer — the 3 simple steps anyone can learn to help save a life from suicide. Just as people trained in CPR and the Heimlich Maneuver help save thousands of lives each year, people trained in QPR learn how to recognize the warning signs of a suicide crisis and how to question, persuade, and refer someone to help. QPR is an emergency mental health intervention for suicidal persons created in 1995 by Paul Quinnett. The intent is to identify and interrupt the crisis and direct that person to the proper care. QPR are part of a system designed to increase the chance of survival in the event of a crisis. As a QPR-trained Gatekeeper you will learn to: recognize the warning signs of suicide, know how to offer hope, and know how to get help and save a life. Gatekeepers can be anyone, but include parents, friends, neighbors, teachers, ministers, doctors, nurses, office supervisors, squad leaders, foremen, police officers, advisors, caseworkers, firefighters, and many others who are strategically positioned to recognize and refer someone at risk of suicide.
This specific event is available to Local First members. To find the next public training available visit La Plata Suicide Prevention's website: www.lpcsuicideprevention.com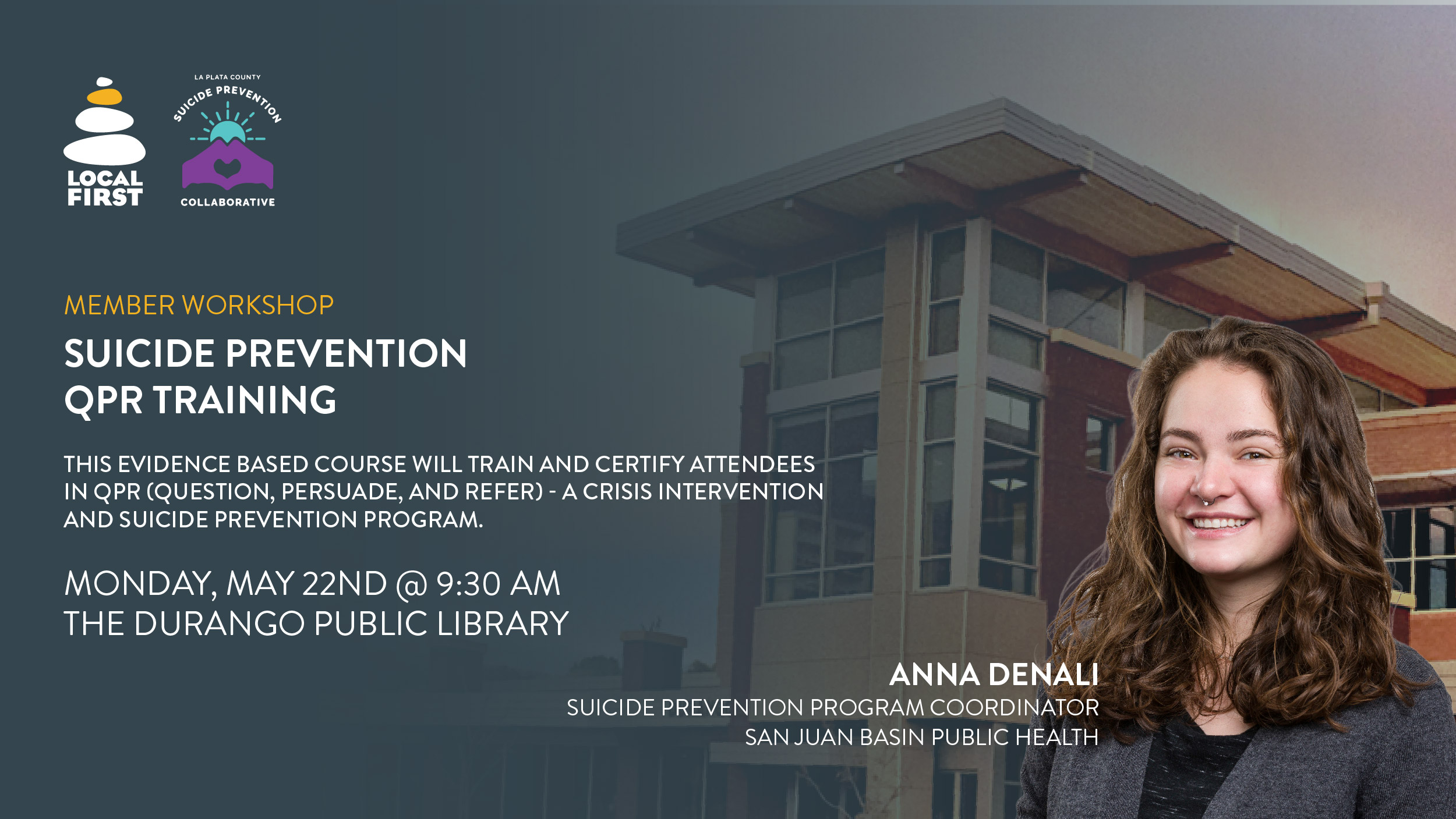 Anna Denali is the Suicide Prevention Program Coordinator at San Juan Basin Public Health and facilitates the La Plata County Suicide Prevention Collaborative, a coalition of community members working to reduce suicide attempts and deaths in La Plata County. Anna focuses on upstream prevention, which entails improving the fundamental social and economic structures of the community in order to reduce the factors that put people at risk of suicide. Rather, Anna works towards enhancing the protective factors that influence a person's health and well-being through community impact work such as de-stigmatizing mental illness, building social connections, and helping community members learn to have honest conversations about mental health and suicide. Anna's primary goal is to prevent individuals from reaching the point of crisis by collectively strengthening the community and its members.