365 Roofing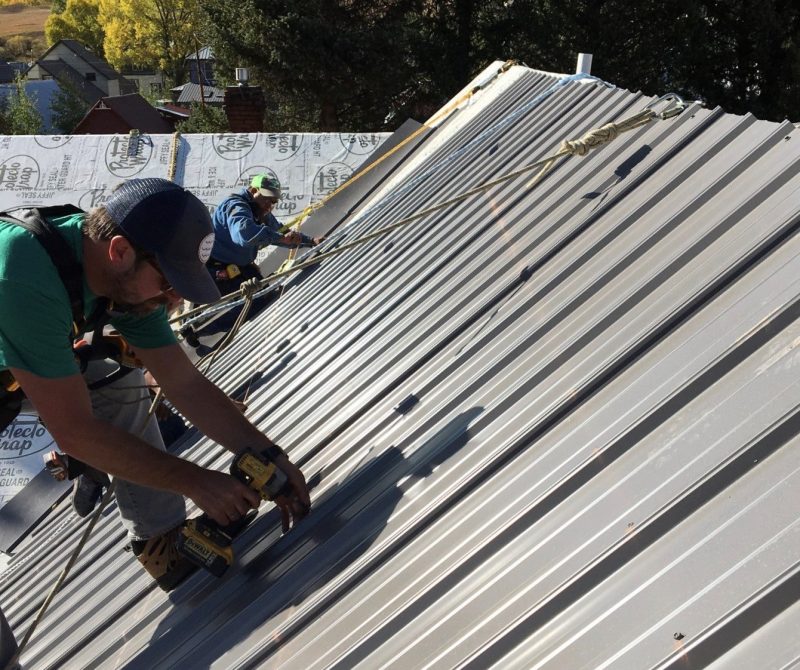 365 ROOFING, LLC
Justin Dudley & Katherine Dudley
 
How long has your business been open and why did you choose to open it in La Plata County?
 
365 Roofing, LLC opened for business in Spring 2019. Prior to that, Justin Dudley owned and operated a large commercial roofing company that operated in four states for 20 years. After living in a concrete-clad city for many years, Justin sold to his partner and we moved to Durango in 2015. We couldn't wait to explore the mountains and surround ourselves in nature. We love La Plata County – its people, its culture, its access to adventures and nature, and its opportunities for our children. As we explored a range of business ideas, we repeatedly heard from friends, neighbors, and contractors that there was a need for a great roofing company in Durango. We decided to stick with what we know—Roofing and Construction. We started 365 Roofing, LLC, but we're not 'just a roofing company.' We're focused on client service & relations, and we put on high-quality roof systems.
What makes your business unique and what services do you provide?
We are raising the bar on roofing contracting. We are a small, family-run business with a deep history in the roofing/contracting industry. Our clients are our priority- with a focus on quality, integrity, communication, and safety. 365 Roofing, LLC offers roof analysis, replacement and repair, fascia & soffit work, skylight replacement and repair. We work with a variety of roof coverings from asphalt shingles to propanel and standing seam. We also specialize in low-slope roofing membranes and can do specialty metal work.
Why should someone LOOK LOCAL and choose your business this year?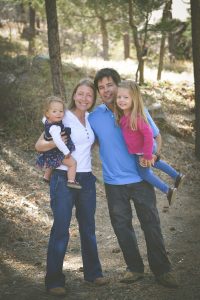 When you work with 365 Roofing, you will reach Justin directly and likely see him on-site regularly during the course of the project. Katherine will send photo reports and updates. Communication and consistency is key, and we're always available – 365 days a year. We have long-term relationships with our roofers and are hands-on with our projects. Since we don't overload our schedule, we can give each project the attention it deserves. You will feel like a priority—because you are. 
To learn more about 365 Roofing, visit their website at https://365-roofing.com/ or Facebook or Instagram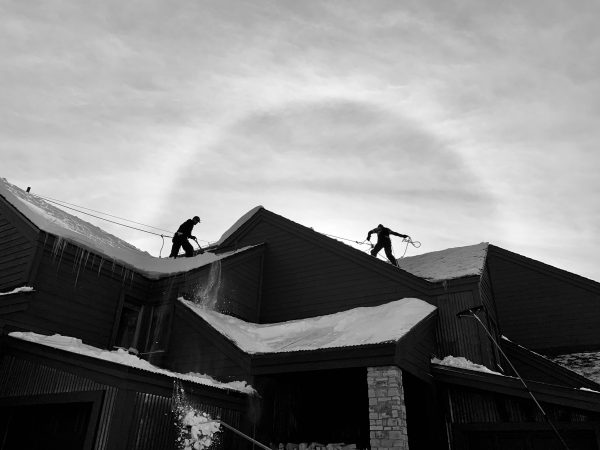 Ultrasteam Professional Cleaning & Restoration, Inc.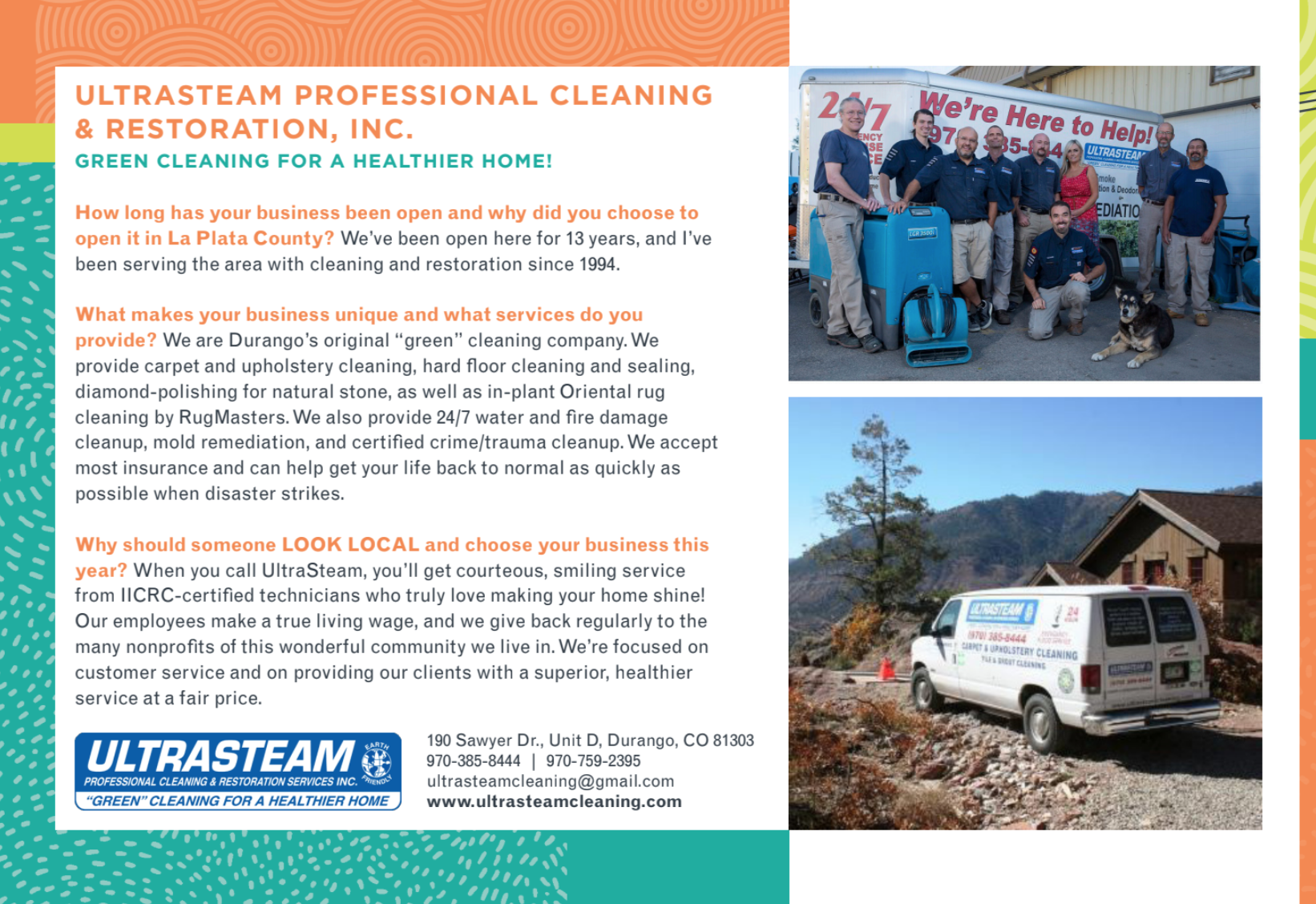 Whole Health Family Medicine
An interview between Kiki Hooton and the owners of Whole Health Family Medicine, Dan Schaefer and Karassa Yeomans Schaefer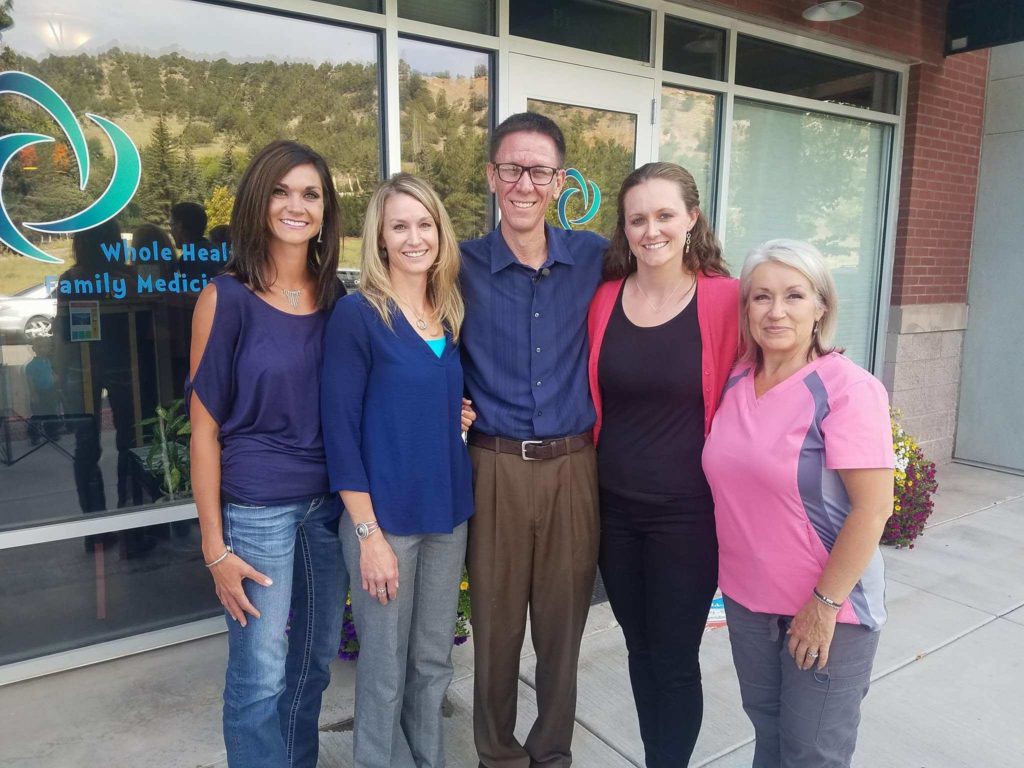 Q: Thank you for being a member of Local First! Why do you think supporting local, independent businesses is important?
Dan:  Big picture, it's really at the core of my training in college and in medical school and it's the reason that we decided to move to Durango. Karassa is from Mancos and we wanted to be closer to home, and also wanted to raise our kids in a community that is focused inside-out instead of outside-in. Additionally, as two people who recently opened a small business, the satisfaction really comes from working with other small local businesses that not only like the idea of our practice but can really invest and speak with their feet and their purchasing power.
Our philosophy of practice is eliminating distractions and limiting third party interactions to give individuals control over the situation. We believe this because health IS a local issue; it's local to the individual, it's local to their family and to the community that they live in, and that's been forgotten in the medical field. Even before we opened Whole Health Family Medicine Clinic a year-and-a-half ago, we have always believed it's important to not only get to know our patients, but also their families, their hobbies, and the context of their lives so we can help give them the best treatment possible.
Q: Can you tell us about the services offered at Whole Health and why it's unique?
Karassa: We are a Direct Primary Care practice, which is a membership based model where we don't contract with insurance companies and instead partner with the patients directly. Patients pay an affordable monthly membership fee in exchange for unrestricted visits (no copays, no additional fees for those visits, or deductibles). This really allows for the patient to be in the driver seat for how they access their care. There are many frustrations to the current health care system, whether the issue is unaffordable health care, inadequate access, not enough time to address medical needs, or not being able to communicate directly with the provider, we are here to provide a solution.
Dan: We also collaborate directly with small businesses to develop health care options for employees that can compete with mainstream healthcare options. We know that it's hard to offer health care benefits to employees but at the same time it's very important for employee retention. By using the direct primary health care model and our business membership option, it allows small business owners to provide affordable, accessible, personalized healthcare.
Q: People don't always realize how much small businesses do for their community. What does your business do to make Durango a better place?
Dan: We are involved with helping support the local business community by attending Economic Alliance meetings, Chamber events, and volunteering for the 9Health Fair.  We are also very involved through our children. We have two boys, ages 3 and 5, so they keep us busy and get us involved in our community.  Additionally, we really advocate for individuals and small businesses taking charge, especially in health. Insurance and pharmaceutical companies have a lot of influence over the health industry and we have stepped out of that model with our local, independent grassroots business.  We advocate every day to keep those third parties out of the exam room. We use the Direct Primary Care model to keep the focus on local health care so more people can have access to these services.
Q: When you're not here at your business what is your favorite local spot to go to?
We love the Rec Center!
Durango Natural Foods
An interview between Monique DiGiorgio, Local First Managing Director and Kamaljit Punia, Director of Marketing and Outreach at Durango Natural Foods.
Kamaljit Punia and employee Crystal Mondor present some of the colorful and tasty local produce found at DNF.
Q: Thank you for being a member of Local First! Could you tell us why you think local, independent businesses are important for the community?
Kamaljit: What I always say for DNF, because we get asked very similar questions on why people should support us instead of a regular grocery store is the resilience it creates in our community. To say that we have a little buffer zone so that we are not at the whim of whatever happens in Washington D.C. politically, that we have cooperation and economic resilience so that we can weather any of the storm those politics make and in the best case scenario, it doesn't even get this far and affect us at all.
Q: Can you tell us about the service that Durango Natural Foods offers and what the benefits are for being a member of a co-op?
There are so many! Being part of this co-op is more than just being a member of a grocery store, you are a member of a movement. That movement includes having respect and taking care of the land and the earth, your local economy, and your community by making sure that everyone in your community has access to the things they want or need. That may not just be groceries, it could be a specific product or even a service, like needing a garden at a school. We can call on our partners like  SouthWest Garden Project and help make that happen. We are really serving as a central location where you could express your needs and we bring the resources where they are needed.
Another important service that we offer that most people don't know are our services to other businesses. We call this our Outside Sales Program so if a business comes to us and needs cases and cases of an item, such as Harvest Grill does for lemonade and chips, we order that item for them and help them source locally for items that they have trouble getting otherwise!
Q: What does Durango Natural Foods do to make Durango a better place? 
I'm glad you asked and I'm going to refer to our 2016 Annual Report because these numbers surprised me! When I decided I wanted to create an infographic of where our money was going I didn't realize just how big of an impact we were making. You know we are a nonprofit so any money that we make above operational costs we reinvest back into the community so we keep our primary focus on purchasing local produce and products. Last year we spent $185,673 with local farmers and producers! That's why we call ourselves a small store with big impact. When stuff breaks around here, which refrigerators love to do, we spent $100,135 in local services for repair. In total DNF spent $843,406 dollars locally, reinvesting money back into the community.
Q: When you aren't spending time at DNF, what's your favorite local spot? 
Oh there are so many! I live over on 32nd so I am loving how the North Side is blowing up!! I have some North Side love so Zia's, 81301, and North Slice are some of my favorite places to hang out.
Point to Point Graphics
An interview between Kiki Hooton, our Americorps VISTA and Jim and Linda Burton, owners of Point to Point Graphics.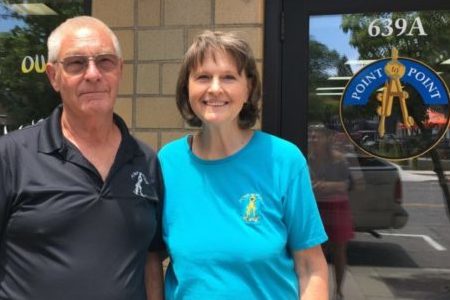 Q:Thank you again for becoming a member of Local First! Could you tell us why you think it's important to support local, independent businesses?
Jim: I think it's very important for the community, we try to buy everything local. We very rarely go to Farmington and we don't use the big box stores even though the price may be cheaper. We are celebrating our 15 year anniversary and the entire time we've stuck to local, because we're local. We are a family run business and the local people have been good to us so we treat them the same.
Linda: It keeps the money in the area instead of going elsewhere and supports the families that work here and want to live here, so that is very important to us.
Q:That's great. Can you tell us quickly about the services that you offer?
Linda: We do printing and copying of large and small format, a lot of architectural printing, custom apparel, embroidery and final heat press, and we sell office supplies. We are the only local office supplies store in Durango. We keep our equipment up to date to give a competitive product at a competitive price. We've tried to focus hard on a quality product on a quick timeline and I think we've met that. We don't have to do any advertising because our clients always come back!
Q:A lot of people don't always realize how impactful small businesses are in the community. Can you tell us a little about how you make Durango a better place?
Jim: We donate all of the printing for veterans and christian organizations. Like we said we are a family run business.Our oldest son and his wife, as well as our grandkids work here in the summer. Our oldest grandson Daniel started when he was 10 and now goes to Fort Lewis. We send him jobs and help support him while he is in school.
Linda: We are really supportive of our staff in general and have provided steady work over the years. We have one employee we are helping go through the graphics department at Fort Lewis, she has a key and can come in and do work on her own schedule. We also use a Local Book Keeper who went to Durango High School and Fort Lewis. She now has two little ones and so we let her work remotely after hours so that she doesn't have to leave them unsupervised.
Q:That's awesome that you are so supportive of your staff! Last question, when you're not at work what is one of your favorite local places in town?
Jim: Our favorite place is probably the Kennebec Cafe, I've known Barbara for years and years. We probably have dinner or breakfast up there once a week. We also love CJ's because they deliver and their food is delicious!
[/fusion_tab]
Cream Bean Berry
An interview between Monique DiGiorgio, Local First Managing Director and Katie Burford, owner and founder of Cream Bean Berry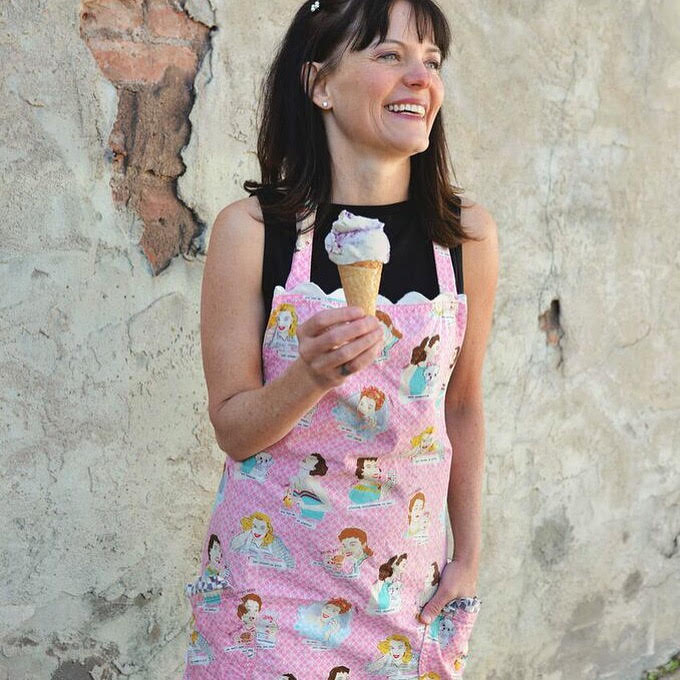 Photo Credit: Bonnie Pacheco
Q: Congratulations on the Green Business Leadership Award! Can you tell us what that award means to you and what it means to be a "green business"?
A: Well, it means a lot to me to be recognized for our efforts to produce ice cream in an environmentally sustainable manner and gaining the award helps to draw attention to that. I want people to know us for the quality of our ice cream, but as a business I feel it is important ethically to be environmentally sustainable.
Q: What are some of the "green" practices you employ in your business?
A: There are a few different areas where we focus our environmental practices: conservation of energy and resources using energy star rated equipment when available, fixtures that use less power, and then also in purchasing disposables that are produced with less waste that are recyclable and bio-degradable and also in our sourcing — getting organic and local ingredients that have less of an impact on the environment in their production.
On locally sourced foods:
One of the challenges when I started is looking at recipes I had and the ingredients that are available locally — and they don't always match up. Over the years, I have been able to identify more and more sources for local ingredients and then also become knowledgeable about what is available locally and look for ways I can incorporate that — so reverse engineering my recipes based on what is available.
Q: What does it mean to be a local, independent business?
A: There is so much I can say about that topic! It's given me a whole new appreciation for my community and how, as a business owner, you are part of an interdependent ecosystem. That is something I under-appreciated when I started — that I was entering a community of supportive counterparts who would really go above and beyond to help with my success. And now that I have been doing this for awhile, I try to pay that back and be a resource for other people that are getting started.
Learn more about Cream Bean Berry's flavors and hours here!
[/fusion_tabs][/fusion_builder_column][/fusion_builder_row][/fusion_builder_container]
Durango's Creative Comic Allie and the Creative Arts team painting. Photo by Jennaye Derge.   Allie Wolfe is a well-known performer in Durango's stand-up comedy scene. [...]