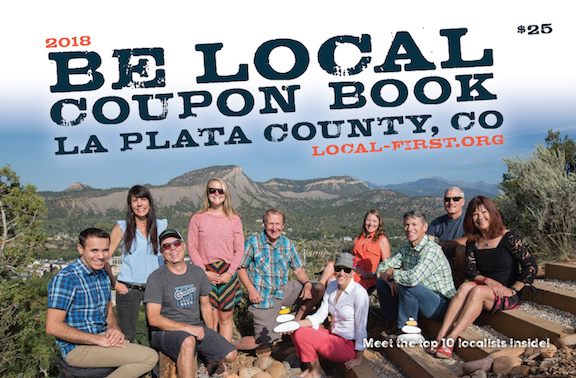 In anticipation of the 10th annual Be Local Coupon Book release coming up the week of November 20, Local First is happy to introduce you to our first-ever official Localists. A Localist is our fancy word for an individual who lives and thrives in La Plata County, walking the talk of supporting our local economy and inspiring others to do the same. They're business owners, entrepreneurs, media gurus, restaurateurs and outdoor adventurists, just like you.
How did we choose them, you wonder? We asked the community to nominate 10 folks they thought best represented our local scene. Out of 58 responses, our Localist Committee then chose 10. Without further ado, here are this year's first two Localists:
Carol Clark: Toast-ess with the Mostest
For over 20 years, Carol Clark has been creating and managing signature events for Southwest Colorado, from the Durango Farmers Market to the Green Living Expo. The former Fort Lewis College sociology student has always had a keen eye on community needs, so when the idea arose to bring a mobile lounge to the region, she was all over it.
As Southwest Colorado's first official mobile lounge, Carol's voguish, portable saloon is called Toast. With the ability to roll into all sorts of wide open spaces, Toast is the perfect party guest, replete with handsome bartenders, a couple of keg coolers and the classiest of cocktail recipes.
What does being a Localist mean to Carol?
"We need each other, and I know that living here means you help others in need and that when you are in need, others are there for you," she says. "That's what I love most about Durango."
Known around the country as one of the most influential paddlesports pioneers, it's little surprise that Kent Ford's favorite local business is Four Corners Riversports. Winner of the 2008 Inductee into the International Whitewater Hall of Fame and Legends of Paddling Award in 2015, Kent spent over 20 years on the international whitewater racing and coaching scene and has paddled no less than 330 rivers in 27 countries.
Since moving to Durango, he's continued work in paddlesports on the other side of the camera, producing 18 DVDs, videos and books on paddlesports and influencing the education of half a million paddlers. The Carnegie-Mellon University graduate with a degree in Mechanical Engineering has taken his skills as an announcer at the Olympics to a more local level, serving as the founder and host of Durango's Green Business Roundtable.
The Green Business Roundtable is a monthly lunch networking event that encourages collaboration among local organizations, seeking to inspire, educate, improve and network the business community on environmental and sustainability issues.
Why does being a Localist matter to Kent?
"If we didn't have a Localist movement, we would look like Anytown, USA," he says. "As a localist, I feel like a job creator. When I walk into a store, I know a friend working there, or I know the owner, or I know someone they do business with—so by shopping at all of those places, I am creating our local economy."
For more from our interviews with Carol and Kent, pickup a copy of the Be Local Coupon Book starting November 24th at your go-to retail shop or learn more about Local First at  local-first.org.