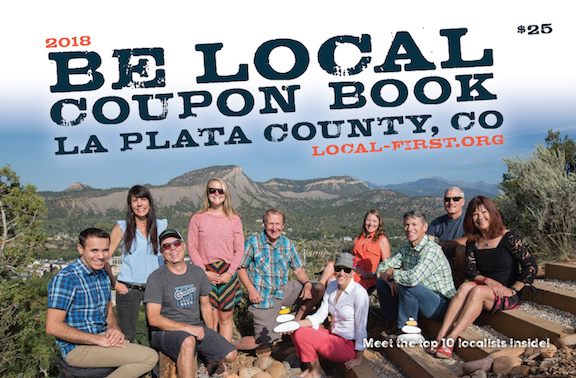 In anticipation of the 10th annual Be Local Coupon Book release coming up the week of November 20, Local First is happy to introduce you to our first-ever official Localists. A Localist is our fancy word for an individual who lives and thrives in La Plata County, walking the talk of supporting our local economy and inspiring others to do the same. They're business owners, entrepreneurs, media gurus, restaurateurs and outdoor adventurists, just like you.
How did we choose them, you wonder? We asked the community to nominate 10 folks they thought best represented our local scene. Out of 58 responses, our Localist Committee then chose 10. Here are two more of this year's Localists:
Christina Rinderle: Mayor with a Green Thumb
When Christina Rinderle moved to Durango in 1999 from Indiana, she brought passion for the environment and a vision for a greener future. She's since used her degree from Purdue University in Environmental Science to promote sustainable economic development and raise awareness for the invaluable resource La Plata County has in its trails.
From serving two terms on the Durango City Council (twice as Mayor) to sitting on the boards of the Women's Resource Center and Trails 2000, Rinderle pours her energy into making our community a place to thrive. As co-owner and real estate broker with Durango Land and Homes, she takes pride in introducing newcomers to our unparalleled access to the great outdoors.
"I wholeheartedly support the vision of the La Plata County Economic Development Alliance to make La Plata County the premier Rocky Mountain destination to start, own and grow a business while enjoying a superior quality of life," she says.    
Cathy Roberts: A Get-Involved Kind-of Gal
For Cathy Roberts, cheering on the sidelines isn't enough. She's a roll-up-her-sleeves kind-of gal, eager to find ways to serve her community. Working as Field Operations Supervisor for the 2010 census in La Plata County sealed that passion, and she's since devoted all of her spare moments to bettering the lives of those around her through volunteer work and an unrelenting positive spirit.
A lover of puppies as much as people, Roberts has spent the last eight years volunteering with the La Plata County Humane Society – sometimes serving up to 40-hours a week. This summer, you probably saw her smiling face lighting up downtown Durango, where she served as the Durango Downtown Ambassador for the Business Improvement District.
"I challenge you all to give your free time, if you have any, to what is important to you," she encourages.  
For more from our interviews with Christina and Cathy, pickup a copy of the Be Local Coupon Book starting November 24th at your go-to retail shop or learn more about Local First at  local-first.org.