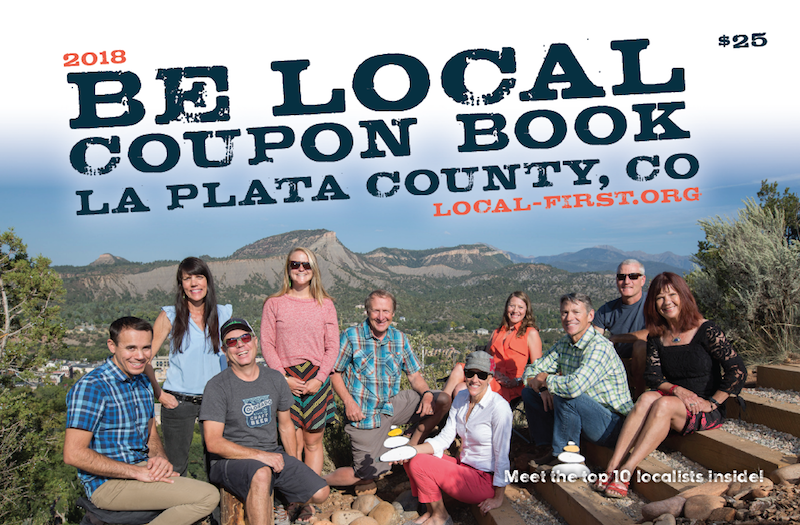 In anticipation of the 10th annual Be Local Coupon Book release coming up the week of November 20, Local First is happy to introduce you to our first-ever official Localists. A Localist is our fancy word for an individual who lives and thrives in La Plata County, walking the talk of supporting our local economy and inspiring others to do the same. They're business owners, entrepreneurs, media gurus, restaurateurs and outdoor adventurists, just like you.
How did we choose them, you wonder? We asked the community to nominate 10 folks they thought best represented our local scene. Out of 58 responses, our Localist Committee then chose 10. Here are two more of this year's Localists:
Tim Turner: Peace, Love & Zia Taqueria
With his roots in dairy farming in rural New York state and Montana cowboy blood pumping in his veins, Tim Turner is a pioneer at heart. Lucky for Durango, this real-estate-developer-turned-entrepreneur-foodie pours his passion into our local food scene with gusto, providing the community with fresh Mexican fare and an example of how to take care of one another.
While Tim was busy running Bread bakery, he grew hungry for a fast, healthy lunch option on the north side of town. So he opened Zia Taqueria in 2005, and has since established the two thriving locations as backbones of La Plata County both for bellies and community organizations, fundraisers, bike teams and more.
When he's not working on perfecting the taco or plotting schemes to make clean food and energy production a thing of the present, Tim's probably hanging out with his wife at home, watching his garden grow.
"Advocate, live and support the basic principles of a local, living economy," says Tim. "From food production to energy production … do it all here, in La Plata County, where we live and help others do the same."    
Missy Votel: Editorialista Extraordinaire
A Minnesota transplant with a penchant for dry humor and distaste for ham salad, Missy Votel is one of La Plata County's greatest gifts. With fellow "cynical ex-mainstream paper pat," Will Sands, Missy founded the Durango Telegraph in 2002 in the wake of the Missionary Ridge Fire. The two visionaries saw a need for a free, weekly, all-local paper that not only informed but inspired ideas and even laughter.
Missy has since dug her heels in as one powerful, invaluable voice in our community, helping shed light on tough issues with a much-needed sense of humor and showcasing the best and brightest characters, places and businesses in our action-packed paradise.
When she's not sleuthing for stories or winning the Extraordinary Women of the Year Award, Missy is probably skiing with her family, playing hockey or surfing in her kayak at the Whitewater Park.  
"I hope the area retains its funky, quirky, fun-loving sense of weirdness, and that locals still take pride in keeping the area unique," says Missy of where she hopes La Plata County will be in the next 10 years.    
For more from our interviews with Tim and Missy, pickup a copy of the Be Local Coupon Book starting November 24th at your go-to retail shop or learn more about Local First at  local-first.org.